Recent study: Evidence of the absence of human African trypanosomiasis in two northern districts of Uganda: Analyses of cattle, pigs and tsetse flies for the presence of Trypanosoma brucei gambiense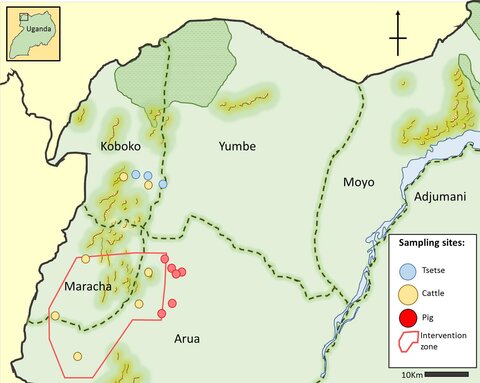 In April 2020, Dr Lucas Cunningham from Professor Steve Torr's research group at LSTM published a study in PLOS NTD looking into the identification of sleeping sickness parasites in livestock and tsetse flies in north west Uganda.
N.W. Uganda is a historic foci of Gambian sleeping sickness, however recently the number of new cases has decreased with only 2 new cases reported in 2019. This decline in cases is due to large scale screening and treating of the local population and the introduction of vector control using Tiny Targets. In a near elimination setting, such as the one described in Uganda, the question of how to determine the absence of a pathogen becomes increasingly important, as this is critical in informing policy. A secondary question of importance is the unclear role animals may play as cryptic-reservoirs of disease.
To try and identify T. brucei gambiense, the causative agent of Gambian sleeping sickness, in the environment both local vectors and domestic animals were screened with a PCR assay that targets a 10,000 copy universal T. brucei s.l. gene. Samples found to be positive for T. brucei s.l. were then screened by a more specific but less sensitive sub-species specific PCR that targeted a single-copy gene, diagnostic of T. b. gambiense.
The study sampled cattle from the districts of Maracha, Arua and Koboko, pigs from Arua and tsetse from Koboko. The initial screen for T. brucei s.l. found that 1.8% of tsetse, 1.3% of cattle and 6.3% of pigs were positive. Across all sample types only two thirds of the samples positive from the initial PCR had sufficient DNA to drill down to sub-species level and of these none were found to be positive for T.b. gambiense. Although it should be noted that 16 tsetse samples did produce a PCR product using the sub-species specific PCR but upon sequencing it proved to be 27 bases too small and differed significantly in its sequence composition.
Dr Cunningham concluded that "while T. b. gambiense was not detected there was also no indication that the pathogen was absent from the area, on the contrary the species group was clearly circulating amongst vectors and vertebrate hosts and that it was not possible to accurately identify a third of the T. brucei s.l. positives found. Indicating that not only was it likely that a larger sample size is required in near elimination setting but around a third of potential positives would remain unresolved."
As more areas of Africa get closer to eliminating this disease the problems faced in N.W. Uganda will be further replicated and with the current methods available it would not be possible to confidently declare an area free of Gambian sleeping sickness without expending a vast amount of resources to conduct expansive surveys of local tsetse populations. Similarly, the question around cryptic-reservoirs remains unclear. In the near future steps should be taken to improve the ability to detect T. b. gambiense in the environment, either in the vector or vertebrate hosts.
Cunningham LJ, Lingley JK, Tirados I, Esterhuizen J, Opiyo M, Mangwiro CTN, Lehane MJ and Torr SJ (2020). Evidence of the absence of human African trypanosomiasis in two northern districts of Uganda: Analyses of cattle, pigs and tsetse flies for the presence of Trypanosoma brucei gambiense. PLoS Negl Trop Dis 14(4): e0007737. https://doi.org/10.1371/journal.pntd.0007737