What type of netting should I use?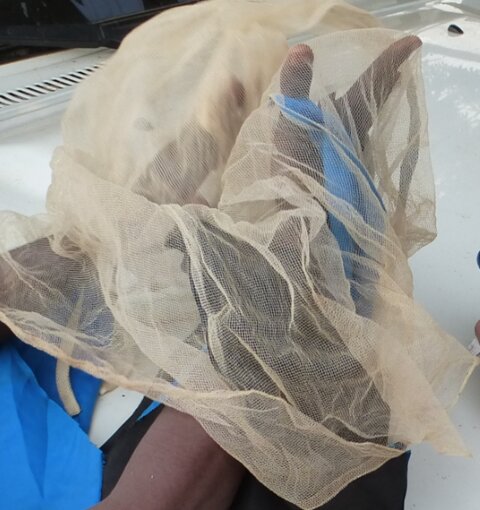 The netting must be strong enough to withstand the elements and to give a good base for any sewing to which it is subjected. The "holes" in the netting should be no more than about 4mm across, ie, small enough to prevent tsetse from squeezing through.
For some types of trap, eg, the Epsilon, the netting cone is not visible from outside the trap and so plays no part in visual attraction from a distance. Hence, the colour of the netting is usually not important, provided the netting allows plenty of light to pass through.
For traps such as the Nzi, Biconical and Pyramidal, the netting cone is visible from outside the trap and is regarded as an important component of visual attractiveness. For such traps the netting is usually recommended to be bright white. However, the netting should not be so substantial as to block more than 50% of through light.
The type of fibre for the netting is usually not crucial. Cotton or polyester will do. In Zimbabwe a plastic-coated fibreglass netting has proved highly satisfactory. In Kenya, workers have used fine netting intended for fishing and this is especially strong and long-lasting.
Some designs of target have netting panels, as with the roofed screens used in Zimbabwe in 1980 and the Rifa and Swinger targets used in that country in the mid and late 1980s. Such netting was recommended to be fine, black, textured polyester. Tiny Targets use black netting that has been impregnated with insecticide (deltamethrin) and is designed to be long-lasting and colour-fast for at least six months.
References
Vale, G.A. (1982). The improvement of traps for tsetse flies (Diptera: Glossinidae). Bulletin of Entomological Research 72, 95-106.
Tirados, I., Esterhuizen, J., Kovacic, V., Mangwiro, T.N.C., Vale, G.A., Hastings, I., Solano, P., Lehane, M.J., Torr, S.J. (2015). Tsetse control and Gambian sleeping sickness: implications for control strategy. PLoS Neglected Tropical Diseases 9.